Reading Time:
2
minutes
Edozie Udeojo,Abuja
Sokoto state has been ranked as the highest poverty state in Nigeria, according to a survey conducted by the Nigerian Bureau of statistics (NBS). Sokoto state's poverty rating stood at 87.73 per cent.
This was made public via a statement on the official Twitter Nigerian Bureau of statistics @nigerianstat.
According to the report the Nigerian Bureau of Statistics also ranked Delta State as the second least poor state in the country after Lagos State."
"The bureau stated that: "Lagos State has 4.50 per cent poverty head count rate and is closely trailed by Delta State with 6.02 per cent with Sokoto state has the highest rate of poverty in the country with 87.73%.
The National Poverty rate currently stands at 40.09 per cent, representing 82.9 million persons, the National Bureau of Statistics (NBS) said.
According to the 2019 Poverty and Inequality in Nigeria report published Monday by the statistical agency, Borno State is however excluded from the poverty estimate.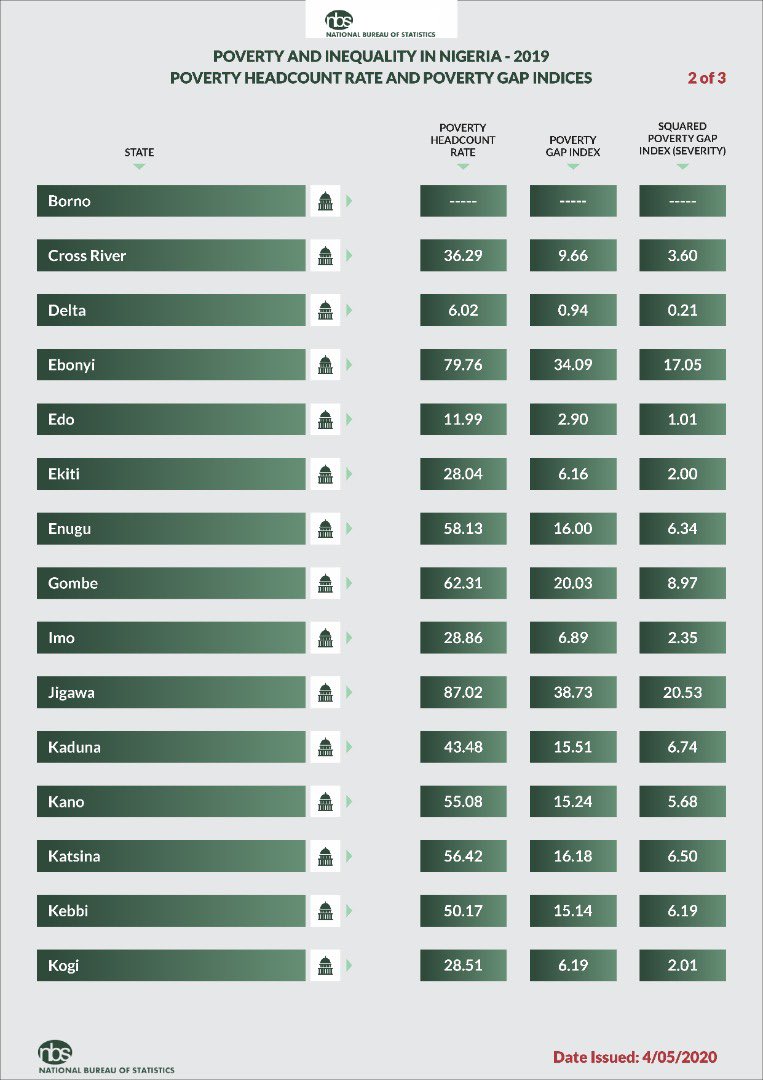 Urban poverty rate stood at 18.04 per cent, while the rural poverty rate is estimated at 52.10 per cent.
In his reaction, the Commissioner for Information in Delta State, Charles Aniagwu, stated that the report was a reflection of the "Prosperity for all Deltans" agenda which has been vigorously pursued by the Governor Ifeanyi Okowa-led administration.
2019 Poverty & Inequality in Nigeria report published @ https://t.co/k7UM0ep2km. National Poverty rate at 40.09% (excluding Borno),representing 82.9mn persons. Urban poverty rate at 18.04%. Rural Poverty rate at 52.10%. Highest rate in Sokoto(87.73%) & Lowest in Lagos(4.50%) pic.twitter.com/9dzggkMt3S

— Dr Yemi Kale (@sgyemikale) May 4, 2020