Reading Time:
2
minutes
A Chinese couple could not hide their tears after they reunited with their son who was abducted at the age of 4.
They were reunited with the now 18-year-old in Shenzhen, Guangdong province on Monday, Dec. 6.
Sun Zhuo, 18, was abducted in the city of Shenzhen in 2007.
His father, Sun Haiyang, and mother, Peng Siying, sold properties to fund their search, and offered a reward of up to $31,000 for information on his whereabouts, Chinese state media reported.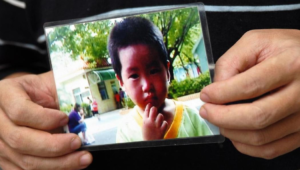 The search for the boy even inspired a hit movie.
"Dearest," a 2014 film by Hong Kong director Peter Chan based on Sun's story grossed more than $50 million at the box office, according to IMDb, and brought the pervasive issue of child abduction and trafficking in China into the spotlight.
Sun Haiyang had traveled to nearly every region of China in search of his son.
Authorities tracked down Sun in the eastern province of Shandong after police used facial recognition technology to help them identify a suspect, surnamed Wu, who they accuse of abducting the boy, according to a website run by the Ministry of Public Security.
Sun's identity was confirmed by DNA analysis, state media reported.
Wu has been detained in connection with two child abductions, including that of Sun, police said.
The couple who adopted Sun were bailed pending trial, state media reported.
Meanwhile, Sun has told state media that he would stay with his adoptive parents because they had raised him for more than 10 years and he was previously unaware of his true lineage.
Due to China's one-child policy, families have been giving up infant girls for adoption while paying to adopt male children as they viewed boys as more able to provide for the family and carry on the family line.
This has driven a black market for infant boys and increased the rate of abduction of male children.