Reading Time:
< 1
minutes
Popular Nigerian actress, Genevieve Nnaji has caught the attention of fans after she unfollowed everyone on her Instagram follow list.
The Nollywood star who was following about 100 people, is currently following no one on the video-sharing app and fans are hoping she would reveal why she chose to clear out her follow list.
With 8.4 million followers on the social media app, Genevieve is known to use her account to just post peng pictures occasionally as she hardly interacts with fans.
Her last Instagram post was on January 2, 2022 and it was a video of her enjoying a nice view while wishing people a Happy New Year.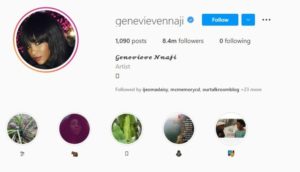 On realising that she was no longer following anybody, some fans said they would unfollow her. as well.
omni_chudda; … She's classiq .. shes bigger than social media clout n drama…. 👏👏👏 Any celeb who made money before social media is bigger than Social media
official_fumilola; I will unfollow her too😢😢😢😢
amber_venny; Wahala for who follow her 😂😂😂
eyojulia; Genny is too big please. Most of these celebs should learn from her. She's really a role model period!!
whumie_thrift_store; Good for her,she kuku no Dey post content b4
thompson15_crown; Me too i just unfollowed her i hate rubbish
tehilla_4; Me sef unfollow join